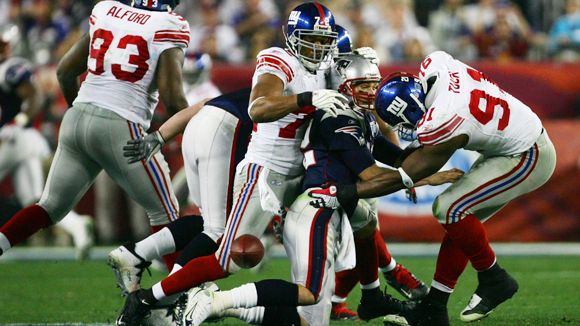 Let's say it first, I am not the biggest football fan. While I appreciate the game and usually get way too into it while watching, I am not a Super Bowl freak unless I actually know the teams involved. This year was an extremely exciting game because 1) I am NYer and Giants fan (well I like them), 2) I detest the Patriots, 3) Tom Brady is a jag off and 4) it's nice to see underdogs involved in the big games. That being said, most people were betting against the Giants to bring it home. Going into the game, I wasn't sure what the outcome would be, but I knew the Patriots could not win. Well the Giants kicked butt and managed to beat the undefeated Patriots 17 to 14.

I couldn't be happier because the Giants really came out yesterday to play like a team and win. They made sure the Patriots kept down their scoring with a strong defense and they busted their asses out there to remove any doubt that they DESERVED to play against Brady and the boys. Also, as you may know, Patriots are a bunch of cheaters and Congress is interested in looking into Spygate, where teams were illegally having people in the stands and taping plays to use against them. I am excited that Eli Manning was able to beat this team during this very important game, since if the Spygate scandal comes to fruition, who knows what games will count or not and this win sends a message. It means that cheaters and glory hogs aren't always going to come out on top.

Here is the roundup, courtesy of Fox Sports.


Giant upset