First, apologies for the delays in Spielster posts. This weekend was CRAZY!!!! in a very good way and I have been working my fingers to the bone on my Halloween costume, so I have been unable to get the job done on the Spielster. Today or tomorrow, I will present a run down of "The Comedians of Comedy" show this past weekend at Irving Plaza, where I laughed for like 3 hours straight and found my new comic crush. Also, I had the chance to see Morissey on Sunday and that guy is fucking amazing. This being the third time I have seen him solo, its awesome that he continues to get better and better each time! And he played my favorite Smiths song "Stop Me if you think that you've heard this one before", so it couldn't have gotten any better. So more on that coming later, but let's get to the news: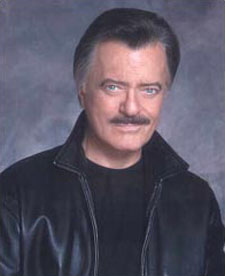 A Hollywood legend is no longer. Robert Goulet, a star who was always able to laugh at himself and enjoy life, passed away yesterday at 73 years old. The Camelot star and well known Hollywood icon has succumbed to his battle with pulmonary fibrosis and died at Cedar Sinai Hospital in Los Angeles. The crooner was waiting for a lung transplant due to his illness and has been on a breathing tube and confined to a bed for the past month. He is survived by Vera Goulet, his wife of 25 years and his three children from previous marriages.
I had the opportunity to see him perform a few years ago and his voice was amazing! I am getting very sad now that all members of the "Old Hollywood" group is starting to pass away. Unfortunately, since Goulet is the second celebrity who has passed this week,
following the death of Porter Wagoner and these things always happen in threes, I wonder who is next.


Daily News reports that Jive Records wants nothing to do with Britney Spears and her new ablum. Also, Ashley Olsen (1/2 of Michelle Tanner) was making out with Lance Armstrong this past Monday in the Rose Bar here in NYC. Wow, this dude really knows how to downgrade.


What a fun way to celebrate a birthday! Dermot Mulroney and Catherine Keener are officially dunzo. The couple, who wed in 1990, has legally dissolved their marriage and they both will single on December 17th. Today also marks the 44th birthday for Mulroney. This stinks because it seemed they really did well together, but stuff never seems to work out in Hollywood, even for indie actors.


Well this would make me commit suicide too! Owen Wilson and Jessica Simpson??? Uhhh, they are both blonde and are from Texas...I guess that's enough to create some kind of bond. I don't care as long as this chick stays away from the in-the-works

Grease

remake.


Heather Mills wanted to kill herself, but was apparently to in love with being famous to get the job done. Wah wah wah, I was married to a Beatle and then spat all this shit on him and women hated me. They were going to hate you regardless but ruining McCartney's good name is just plain old dumb!


Thank you to Entertainment Weekly for pushing Reaper, one of my new favorite shows. This show is about a 21 year old, played by Bret Harrison,who finds out that his parents sold his soul to the devil when he was a child. He is now forced to work for the Devil, played wickedly by Ray Wise, from Twin Peaks fame. It is kind of like a funny version of Buffy, for dudes and ladies. The storylines are great, main characters are interesting and seem familiar. And how can a show which each week has people trying to catch escaped souls from hell, while figuring out their love light, not be entertaining? I highly recommend checking this out!!!!!


"Bordertown", Jennifer Lopez's latest attempt at proving herself in the acting world, is going straight to video. Good thing she has twelve other "jobs" that help her pull in $25 million a year.