It's rainy and mucky here and I would prefer to be wrapped up in my bed watching Arrested Developmenton constant repeat, but alas that' not happening. So in the meantime, let's check out what we have for you today:


First off, apparently the wild fires in California subside just a bit. And they are looking into the incident being caused by arsonists, not Al Qaeda, as Fox News has been reporting, sort of.


Alyssa Milano dishes about her new gig. Milano, famous for being one of the only kid actors who NEVER went through an awkward stage, is joining the cast of My Name is Earl for an arc that has her dating Earl (Jason Lee) and she will be staying until December. TV can always do with some more Milano.


Journalists are scared about losing their jobs. Yeah yeah….the internet is going to eradicate the written word, on paper. As much as I love me some internets, until you can comfortably read a blog on a crowded 6 train with 150 of your closest strangers all up in your face, the newspaper will be sticking around.

JANE part deux??? Word on the street is Ms. Jane Pratt met with her original arsenal of staffers from JANE magazine for a bit of a pow wow. Hopefully this means a new magazine is in the works.


Gossip is swirling that Ellen Degeneres cracked up last week because of problems between her and Portia, not because of that breakdown she had about that dang dog Iggy being taken away.


Microsoft wins the battle for a stake in Facebook. For about two months, Google, Yahoo and Microsoft were battling to obtain part of the social networking site. Microsoft said that they would be paying about $240 million for less then a 2 percent stake in Facebook. The site is now valued at over $ 15 billion.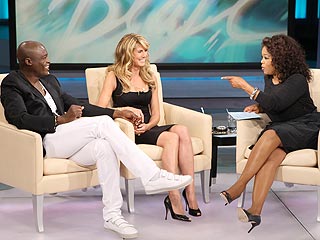 Heidi Klum explains the real attraction to Seal On today's episode of Oprah, Klum explains when she first met Seal he was sweaty after the gym and was carrying an impressive package. It was love at first sight. Hell, at least she is honest.


Tastebook launched with help from CondeNast's internet sites. The recipe site, which allows users to create cookbooks from uploaded recipes, was created by the co-founder of Ofoto so you can create a personal feel for a cookbook.


I guess this counts as celeb news. The Soup' American Idol contestant, Constantine Maroulis and my favorite pop star, Deborah Gibson are apparently dating according to US Weekly I really don't have anything bad to say about these two, so hopefully this works out.

Later today we will be dishing about the surprise hits of the TV season so far and this year's America's Next Top Model, cause somehow I got sucked back into caring about this show with this season's cast. Maybe it's because they are much smarter then last "cycle's" or the fact that they all don't look like a bunch of transvestites could also have something to do with it.